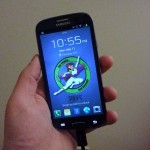 I've been surrounded by technology for years, and my logic has long been that if I have a laptop and iPad nearby to hand, why does my phone need to be anything special? And so I've had a non-smartphone for years. But that changed yesterday; Katrina and I made the leap up to Android Galaxy handsets! And while I'm having fun pushing all the buttons on my new gadget, I also had fun flexing my creative muscles, and created a "For Trinity and Beyond!" lock screen wallpaper image.
Do you want to show your support for Trinity on your mobile too? Here you go, grab this file, which is nicely sized for a Samsung Galaxy S III lock screen (image fits nicely between the clock and the shortcut bars):
"For Trinity, and Beyond!" Lock Screen Wallpaper
As of right now, Team Trinity has 7 walkers in the Milwaukee event, and $490 sponsored! Thank you for helping kick off this year of fundraising! Let's see if we can keep the ball rolling this week as well, shall we? If Team Trinity gets $50 more in sponsorship this week (before midnight Saturday), I'll customize the "For Trinity and Beyond" Wallpaper for any other mobile devices (leave a comment below voting for your smartphone model), and an even larger one for a desktop wallpaper, to show your support on your full-sized computers too.
So, let's see those sponsorships keep on strong! Click here and donate to any of the Team Trinity walkers this week to help unlock this prize (and remember you get an entry in the grand prize raffle for sponsoring too).
UPDATE: Congratulations, Team Trinity earned an extra $200 this week, thank you all so much! And here's your reward, as promised:
"For Trinity, and Beyond!" Desktop Wallpaper
That image is large enough for laptops, desktops, and high-resolution mobile devices (tablets, phones, etc.). If it isn't sized well for your device, post a comment below what device you're trying to get it to work for, and I'll see what I can do!