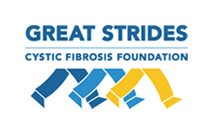 While the snowflakes are coming down thick here in Madison, but the first day of Spring is just around the corner, which means we're only a few months away from the Cystic Fibrosis Foundation Great Strides fundraiser!
The Boyd family will be walking in the Milwaukee event this year, which is Sunday, May 19th at 9:30am on the Milwaukee lakefront. This is an annual event to raise funding for the Cystic Fibrosis Foundation (CFF) who is the primary sponsor of medical research for Cystic Fibrosis ($75 million came from them to develop VX-809 (see prior journal entry)), which is why we will be participating in this event.
So, we will be putting our body on the line, walking 5K along Milwaukee's lakefront, and we're looking for people to sponsor us to do so! If you would be willing to make a donation to sponsor us and help fund CF research, click here to visit my Walker page at the Great Strides website, and press the "Click to Donate" button.
Last year Team Trinity raised $2,700 for CF research, and we'd love to do it again this year! Let's see if we can make it to an even $3,000 this year, shall we?
To help us reach that funding goal, the Madison Boyds will be offering some extra incentives along the way for donating. We'll reveal more as we get into the fundraising season (keep an eye on posts here in the Cystic Fibrosis category), but to start with, we're going to offer a grand prize raffle of a $100 Amazon.com gift certificate to one of our donors this year! If you help us kickstart our fundraising efforts and make a donation to any Walker on Team Trinity in the month of March, you'll get three entries in the grand prize raffle. People who donate in April will get two, and those who donate in May, up until the day of the event will get one entry.
We would also love you to join Team Trinity as a walker, if you can join us in Milwaukee; there's a separate button on my Walker page to "Join My Team". Click that to sign up as a walker and start fundraising for Team Trinity as well. If you do sign up as a Walker and you raise $100 for Team Trinity, I'll give you an extra two entries in the grand prize raffle!
Sound good? Got your walking shoes ready? Let's do all we can to help Trinity and all the others with CF fight their disease and stride towards a cure!